What is FEP cable?
FEP cable is a kind of Teflon wire with FEP insulation. In fact FEP insulated wire belongs to high temperature wire type. The most important feature is the high temperature resistance. What's more, FEP wire has many excellent features, such as resistant to fire, chemicals, acids, sunlight, moisture. This is why this FEP high temperature cable is so popular. The maximum operating temperature of the cable is 200℃. The highest temperatures for the most commonly used PVC insulation and PE insulation materials are 70-90℃. Therefore, FEP cable is more suitable for use places with higher temperature requirements. If you need to buy high quality and low price 16 gauge FEP wire, Huadong Cable Group will be your ideal choice. Email: sales@hdchightemperaturewire.com
Voltage: 600V

Conductor : Nickel plated copper / Tinned plated copper / Silver plated copper

Size:  16AWG, 18AWG, 20AWG, 22AWG, 24AWG, 26AWG, 28AWG

Insulation : FEP (Fluorinated Ethylene Propylene)

Jacket: Fiberglass, PVC, Teflon, Silicone Rubber

Galvanized Layer material: Stainless Steel,  Tinned Brass

Temperature : -30°C to + 200°C
What are the advantages of 16 awg FEP Teflon wire?
At the same time, FEP Teflon wire also has the characteristics of low temperature resistance. According to different cable standards, the use temperature range of the FEP cable is -100℃—+260℃. Generally speaking, the rated voltage of 16 awg FEP wire is 300V or 600V. In addition, 16 gauge FEP wire insulation melts and flows during baking to form a non-porous film with excellent chemical stability. What's more, you can choose 18 awg FEP insulated wire colors. As a professional 18 awg Teflon FEP cable manufacturer,  we can supply according to your requirements. So, white, blue, red, black, brown, gray, yellow, green, transparent and yellow/green, all of these colors 20 awg FEP Teflon insulated wire are available in Huadong. Please leave your message and tell us FEP insulated wire sizes you need. Then our sales team will send best Teflon hook up wire price as soon as possible. Email: sales@hdchightemperaturewire.com
Type : Single Core

Voltage: 250 V / 600 V / 1000 V or according to your requirement

Conductor : Nickel plated copper / Tinned plated copper / Silver plated copper

Insulation : PTFE Wrap Insulation

Temperature : – 65°C to + 260°C

Color: Blue / Orange / Yellow / Gray / Purple / Red /Black / White / Green / Brown

Properties : Resistant to Fire, Chemicals, Acids, Sunlight, Moisture

Send Your Inquiry by Email: sales@hdchightemperaturewire.com
What are the applications of 22 gauge FEP insulated wire?
FEP Teflon wire is suitable for the harsh environment. Therefore, FEP cable has a wide range of applications. For example, you can use 22 awg FEP wire cables in internal wiring, lead wires for aircraft, warships, high-temperature furnaces, and electronic equipment. In addition to the use of sophisticated high-tech instruments, 22 awg FEP insulated wire are also widely used in the household appliances industry. Therefore, FEP Teflon wire is suitable for home appliances, small motors, temperature sensor, automotive interior cables, electronic appliances and so on. What's the application of your FEP Teflon wire? If you don't know how to choose the right type FEP cable, please feel free to contact us.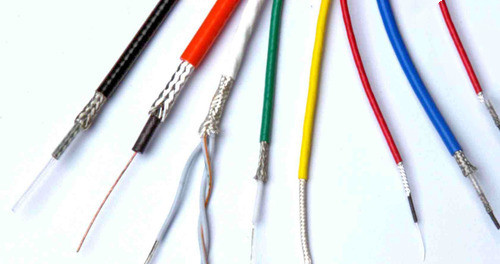 Being one of professional FEP insulated wire suppliers, we can supply different high temperature FEP cable sizes. In addition to 22 awg FEP Teflon wire, we also have 16AWG, 18AWG, 20AWG, 24AWG, 26AWG, 28AWG FEP cable for sale. What's more, you can buy PTFE cable from our factory. Just send your inquiry to place order.
Where to buy high temperature FEP Teflon insulated wire?
Huadong Cable Group is one of leading FEP cable suppliers. If you are looking for 24 awg FEP insulated wire manufacturer, Huadong will be your good choice. In fact, we can deliver 24 gauge Teflon FEP cable to many countries. Therefore, you can get 26 gauge high temperature FEP insulated cable cost to Germany, Poland, Denmark, United Kingdom, France, Switzerland, Netherlands, United Arab Emirates, Russia, Thailand, Indonesia, Malaysia, Vietnam, Singapore, Myanmar, Canada, United States, Brazil, South Africa, Nigeria. 

What's more, we maintained long-term cooperation with our customers. Not only is the quality of our FEP cable reliable. Because we sell 26 awg FEP Teflon wire direct , we can give our customers best price. Besides, if you need lots of 28 awg FEP insulated wire, we can give you a discount price. So please kindly send us your inquiry FEP cable list and order quantity. Then we will reply you as soon as possible. I believe we will have pleasant cooperation about FEP insulated wire.
Please feel free to leave your requirement. We will reply you within 12 hours.
Email: sales@hdchightemperaturewire.com