What is Teflon ETFE wire?
ETFE wire is a kind of high temperature wire. Teflon ETFE wire insulation has extraordinary thermal stability, so that ETFE cable can adapt to 150~200℃ high temperature environment. However, the common PE and PVC cables are only suitable for working environment of 70~90℃. Because of this high temperature resistance characteristic, ETFE cable is suitable for extremely harsh service environment. In order to meet customers' requirement, we supply different high temperature ETFE wire sizes. Thus you can buy 36 awg – 6 awg Teflon ETFE cable Huadong. As a professional high temperature wire manufacturer, we can give you best heat resistant ETFE wire price. What's more, if you want to buy  Teflon ETFE cable which meet German standard directly, just leave your message. Email: sales@hdchightemperaturewire.com
Type : Single Conductor/Multi Conductor

Voltage: 250 V / 600 V / 1000 V or according to your requirement

Conductor : Nickel plated copper / Tinned plated copper / Silver plated copper

Size: 10AWG, 12AWG, 16AWG, 22AWG, 24AWG, 26AWG, 32AWG and so on

Insulation : ETFE(Ethylene Tetrafluoroethylene)

Temperature : – 65°C to + 150°C

Properties : Resistant to Fire, Chemicals, Acids, Sunlight, Moisture
What are the Teflon ETFE cable applications ?
Actually, Teflon ETFE cable is not only resistant to high temperatures but also resistant to low temperatures. Besides, 24 awg ETFE wire can also resist a variety of chemical effects. Such as acid and alkali resistance, oxidation resistance, oil resistance, etc. In addition, 24 awg ETFE Teflon insulated cable also has good abrasion resistance. Therefore, ETFE cable has a wide range of applications. For example, in the household electrical appliance industry, 22 awg ETFE wire can be used in the internal wiring of air conditioner. What's more, you can also apply 22 gauge ETFE heat resistant wire to microwave oven, electric cooker, electric oven, electric heater, etc. Email: sales@hdchightemperaturewire.com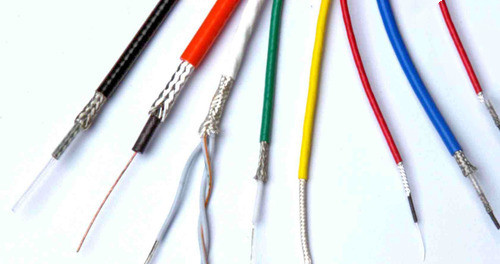 However, in the electronics industry, ETFE cable can be used for temperature compensation conductor. So this 22 awg ETFE wire is known as high temperature heating wire and flame retardant wire. Being one of the biggest  ETFE insulation wire factory, Huadong produces high quality ETFE insulated cable strictly in accordance with international standards. And our 20 awg ETFE high temperature wire are very popular in Europe. So, if you want to get the 24 awg ETFE cable cost to Germany, Poland, Denmark, United Kingdom, France, Switzerland, Netherlands, just contact us. Email: sales@hdchightemperaturewire.com
The best place to get reasonable high temp wire ETFE cable price
If you are looking for a professional Teflon ETFE cable manufacturer now, congratulations on your clicking on the right website. Huadong Cable Group is one of leading ETFE wire suppliers in China. Our cable ETFE wire factory is located in Henan Province, China. In addition to ETFE wire, we also have PTFE insulated high temp wire for sale. With excellent ETFE cable quality and customer service, we have won the favor and trust of consumers. Because we sell Teflon ETFE cable directly, our high temperature 28 awg ETFE wire price has great competitive. We believe that Huadong Cable Group is definitely the right choice. Email: sales@hdchightemperaturewire.com

What's more, you can purchase different high temperature ETFE cable types for project. There are nickel copper wire ETFE cable, silver copper conductor ETFE cable and tinned plated copper Teflon ETFE wire for sale. Besides, our Teflon insulation types are also not the same. If you need high temp PFA cable, we can also supply. Every production process of ETFE high temp wire has been strictly checked by our professional technical engineers. So you can rest assured to place your order.
Customer Case: Our Teflon ETFE high temperature cable products have been exported to more than 30 countries. Such as Germany, Poland, Denmark, United Kingdom, France, Switzerland, Netherlands, United Arab Emirates, Russia, Thailand, Indonesia, Malaysia, Vietnam, Singapore, Philippines, Myanmar, Canada, United States, Brazil, Australia, South Africa, Nigeria. If you are interested in 28 awg ETFE cable wire Malaysia price, just contact us.

Starting customize your ideal size, our factory price will send you within 12 hours.
Email: sales@hdchightemperaturewire.com